News from the Front
News from the Front, will show that resurgent militant Islam and its allies in rogue state capitals, from Caracas to Pyongyang, are now waging a worldwide jihad against the West, planning attacks in the Philippines, North Africa, in the Muslim enclaves of France, Britain, Sweden, the "no go zones" where European police fear to go, and in the suburbs of Washington DC where Imams openly preach hatred of America. As Catherine Herridge points out in her book, The Next Wave, law enforcement agencies are interdicting a new terrorist plot inside the US, on average, once every two weeks. Since 9/11, Muslims have launched 20,000 attacks worldwide. They indiscriminately kill the infidel and secular Muslims alike. Their mission is to intimidate, destabilize and ultimately impose fundamentalist Islam upon the non-Muslim world.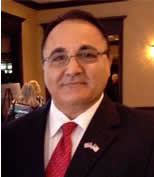 My friend, Amil Imani, is an Iranian born and influential pro-democracy activist whose family escaped Iran during the Islamic revolution of 1979.  He is also an apostate and is a fierce critic of Islam.  He recently wrote a column, The Ruling Mullahs Are Not Iranians, in which he maintains that the Mullahs who run the Iranian theocracy now are imposters and are running a tyrannical regime against the will of the people.
Amil contends that virtually all Iranians not working for the regime hate it and want to see it fall.  Moreover, should the regime fall, Iran would cease to be a predominantly Muslim country.  The reason for this is because Iranians know their past and know, in the seventh century AD, the alien faith of Islam was brutally imposed by the invading armies of Allah.  They manically wiped out the indigenous faith we today refer to Zoroastrianism and crushed the traditions and culture which traced it roots back to Cyrus the Great of the sixth century BC. The warriors of Allah attempted to eradicate Persian culture and religious beliefs which were more than a millennium older than Islam.
Cyrus (600-530 BC) was the first monarch to consolidate under one rule the greater Middle East, arguably the largest empire ever amassed, up to that point, in human history.  But understanding that he ruled over such an enormously diverse group of peoples, he issued the first charter of inalienable human rights which not only gave his subjects freedom of worship but numerous other freedoms not eclipsed until the US Constitution was written and ratified.  Both the Torah and the Old Testament record that Cyrus, upon conquering the Babylonians, freed a Jewish slave population of somewhere around 40,000 people, gave them safe passage back […]
In speaking with Carly Fiorina, I began by saying, "I'm worried about a knockout blow to the U.S. delivered by what I call the new "Axis of Evil," that being, Russia, China, North Korea, Iran [...]